Your Name is a 2016 Japanese anime romantic fantasy drama film written and directed by Makoto Shinkai.
The story was about Mitsuha, a high school girl living at a remote area surrounded by forest and mountain – Itomori town, with her father, grandma, and little sister, and helping out with her family traditional rituals at the Shinto shrine. After the death of her mother, her dad chose to become the major of the town, rejected the inheritance of the shrine, and slowly drifted away from the family.
Like other teenager girls, Mitsuha found the uneventful life at her town bland and always wanted to go to Tokyo. As a legendary shooting star started to appear on the sky, a miracle happened along with many strange dreams, unnamed feelings, vague sensations of deja-vu. One day, Mitsuha woke up in the body of a Tokyo high school boy named Taki, who was a little quick-tempered but very kind and friendly. Taki liked to draw, wrote diary on his phone, had a crush on an upperclassman, and worked part-time at an Italian restaurant after school.
After several bizzare dreams of switching bodies, Taki and Mitsuha eventually realized that they did not dream but actually exchanged bodies with each other after they went to sleep. To avoid problems, they left messages and set rules for the other when living in the switch body. It seemed like Taki and Mitsuha's lives would forever remain parallel; however, as strings of fate kept intertwine and tied into magical knots, both gradually find themselves falling for each one even though they had not met face to face even once. But the moment they decided to confess their feelings was also the moment the switching stopped, and they could no longer connect with each other. The memories that Mitsuha and Taki had about each other start to fade away, everything that had happened started to feel like a dream, and they eventually could not recall the other's name. Determined to figure out the lingering unnamed feelings, Taki went on a trip to Itomori town, hoped to learn more about the girl that he could not recall her name and the event that stopped their connection with each other.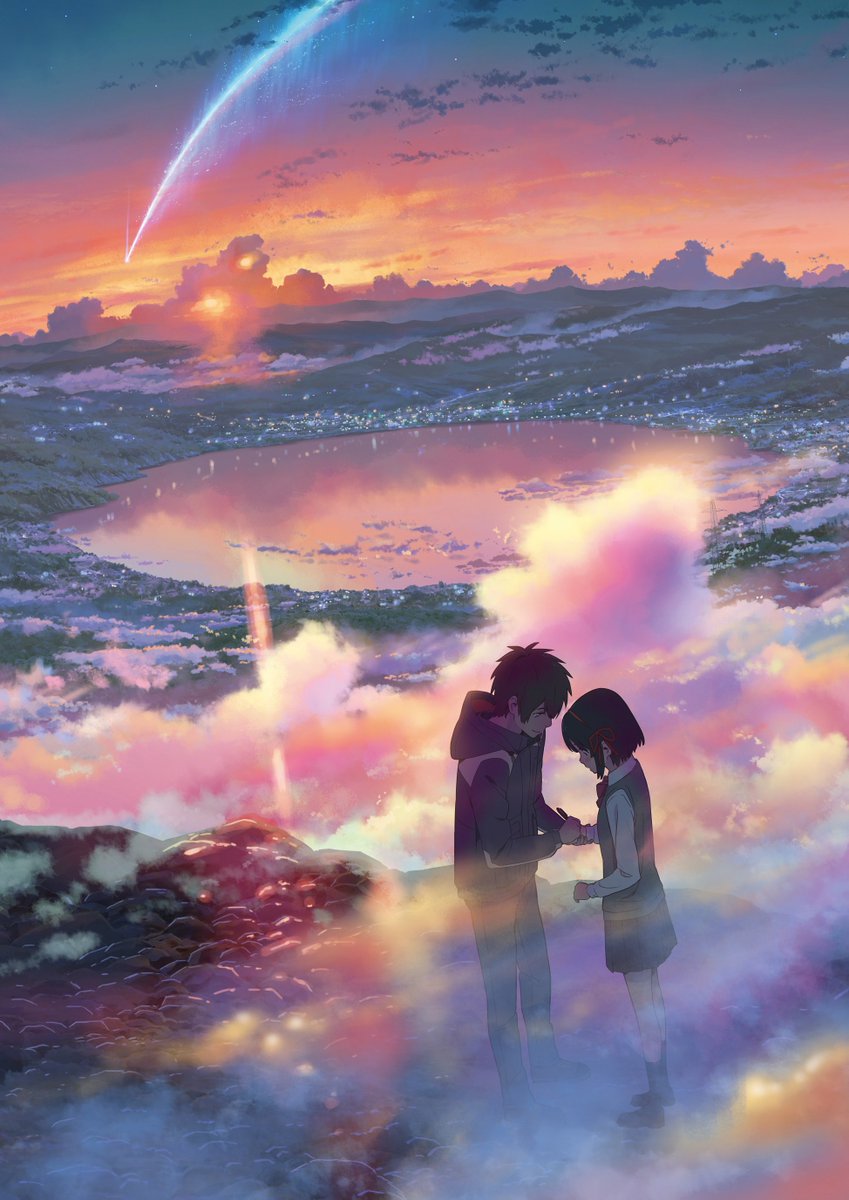 Speaking of Japanese anime, international audience might be more familiar with the ones produced by Hayao Mizayaki and Studio Ghibli. However, Makoto Shinkai is also a talented Japanese producer that is very well-known among people who love animation and Japanese anime in particular. If Hayao's movies are for people from different age ranges, Makoto focuses more on making movies that are relatable to adult audience, who has matured, have gone through different experience, and know how to contemplate about life.
As of January 15, 2017, Kimi no Na Wa has grossed over US$330 million and quickly became a commercial success, being the fourth highest grossing film of all time in Japan and the highest grossing anime film worldwide (taking over Spirit Away, which has been on the first place since 2001). This statistic might be a surprise to many people who wonder why a slice of life 2D anime could became such a phenomenal. However, the answer will be very clear after 106 minutes of the movie. Besides having breath taking graphics, Kimi no Na wa is successful because of its heart-tugging story about hope and love. Finally, the soundtracks recorded by the famous rock band RADWIMPS tie all the elements together and help complete the magical star gazing experience in Knimi no Na wa.
According to PRNewswire, Kimi no Na wa is finally getting a Western theatrical release this April 7th, so definitely check it out at your local theaters!
For more information about "Your Name." visit the official movie website here.
sifiaddict